Tabletop Electric Fill Jet
Tabletop Electric Fill Jet
The next evolution in Buon Vino's bottle filler line is the Tabletop Fill Jet. This innovative new product has all of the great features of our original Fill Jet, including a cascading flow system that can fill a 750mL bottle in just 17 seconds, packaged in a highly convenient and compact table top design.
With its self-priming pump, quick load mechanism, and compact size, the Table Top Fill Jet is ideal for the home wine maker!
Technical Specifications:
filling time: 17 seconds per 750mL bottle
self-prime pump/motor
dimensions: 76 cm (height) x 31 cm (length)
accommodates 375mL, 750mL, and 1L bottles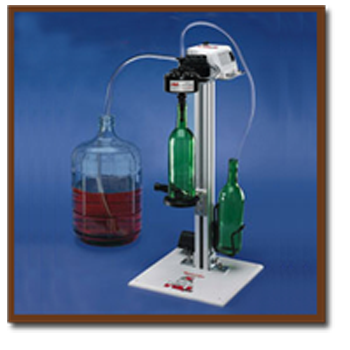 Floor Model Electric Fill Jet
Floor Model Electric Fill Jet
Developed to make your wine filling needs easier, the Buon Vino Fill Jet electric bottle filler is capable of filling a 750mL wine bottle in just 17 seconds. Its specially designed tapered tip cascades wine into the bottle, and the pump is self de-activating to help prevent overflows.
This portable system can be used anywhere, and with its self-priming pump and quick loading mechanism it is fast and easy to use.
Technical Specifications:
self-prime pump/motor
filling time: 17 seconds per 750mL bottle
accomodates 375mL, 750mL, and 1L bottles
dimensions: 100 cm (height) x 65 cm (length)