Accessory Equipment
Accessory Equipment and Products Available Through Buon Vino Distributors
We manufacture and distribute a wide variety of Accessories, Equipment and Chemicals to assist both the home winemaker and winemaking shops with everything they need throughout the process.
---
Bungs
Available in 3 convenient sizes, Buon Vino bungs have a longer taper to help produce a better fit and a snug seal, and a lip which prevents them from falling into your carboy. They fit both Bubble and Cylinder Air Locks. Available as Solid or with Fermentation Lock Hole.
Fits 'S' type (Bubbler) and cylinder air locks
Small fits 12L, 18.9L, 23L Carboy
Medium fits Plastic Carboys 20L, 25L, 34L Demi
Large fits 54L Demijohns
 Proudly manufactured in Canada by Buon Vino
Bung Picture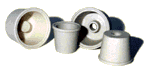 Cylinder Air Locks
Cylinder Air Locks
Our high quality Cylinder Air Locks are perfect for use with a wide variety of bungs.

 Proudly manufactured in Canada by Buon Vino
Airlock Photo
For a full list of Winemaking Equipment, such as Corkers and Pre-Filters, please visit our Equipment page…
Corker photo

Corks
Corks
We offer a wide variety of exceptionally high quality natural, agglomerated and synthetic corks.
Cork photo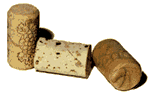 For a full list of Winemaking Chemicals, such as Citrosol and Tannisol, please visit our Chemicals page…
Tannisol photo