Mini Jet Wine Filter
Mini Jet Wine Filter
The Buon Vino Mini Jet has been designed with the small quantity winemaker in mind. It is the perfect way for the home hobbyist to produce a wine with a commercial shine. Perfect for the home winemaker who filters 23L (5 Gallons) at a time from kits.
Its compact design incorporates a self-prime motorized pump capable of filtering up to 20 litres in 15 minutes. A built in drip tray and drainage tube ensure a no mess, no fuss clean-up job. And its triple filter pads add a crystal clear, sparkling quality to your wine.
Technical Specifications:
self-prime pump
incorporated motor
filtering surface 465 square cm
filtering time: 15 minutes per 20 litre jug (approximate)
3 grades of pads: coarse, polish, and sterilizing
dimensions: 30 cm (length) x 14 cm (width) x 18 cm (height)
weight: 3 kilograms

Mini Jet Wine Filter
Remember the Pre-Filter!
The Pre-Screen Filter can be attached to the intake hose of the newer Mini Jet Model MJT93089-3, Super Jet or Semi-Industrial Wine Filter to screen out large particles of sediment such as oak chips and/or seeds before they reach the pump. This should prolong the life of the Check Valve in the Super Jet and allow you to maintain a much cleaner pump. Highly recommended if you use oak chips, elderberries or wish to use the pump to rack your wine!
The Pre-Screen filter will not allow any large solids to get inside the pump and cause damage.
Note:  When ordering you will need to specify that the pre-screen is for the Mini Jet Model # MJT93089-3 (the Super Jet has a different size fitting)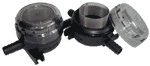 Using Your Mini Jet – Watch The Video!
Learn how to filter your wine perfectly every time with the Buon Vino Mini Jet Wine Filter. Step-by-step instructions to help you achieve brilliance, sparkle and a wine you will be proud to serve!
---
The key to effective wine filtering is the Filter Pads. All pads MUST be of the same grade (do NOT mix course, polish and fine pads together) and inserted properly.
For more information about using and maintaining your Mini Jet, please visit our Service page…